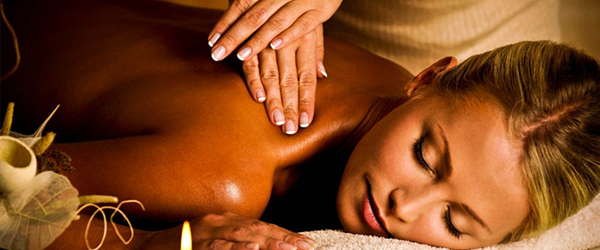 Massage treatments
With her 15 years hands-on experience of working with the body, Loretta has developed her own system of massage, combining various techniques including sports massage and deep-tissue massage with a holistic approach, targeting head, neck and shoulder pain, nervous tension and post-work-out muscular fatigue.
Deep Tissue Massage * Deep Relaxation * Facial De-Stress * Energy Healing Marma * Pinda Sweda: Heat & Herbal Bags * Pregnancy Massage
*If you have a clinical condition, or you are under the care of a health professional, we recommend that you consult your physician before any treatment.*
Marma Therapy & Pranic Healing                                                                                                                                                                                                                 An unprecedented experience, as well as a powerful treatment that works in synergy with the body's inner capacity to heal, re-energise and balance itself, bringing an overall sensation of wellbeing and peace. A healing therapy to balance the body's energy points, release stagnation and help release and heal emotional issues. Marma points are similar to acupressure and trigger point therapy, as they open the flow or energy and release deep set emotions, used during a full body massage.
Time: 60/90 mins
Bespoke Holistic Deep Tissue Massage / Deep Relaxation
This intuitively guided blend of deep tissue massage and healing, using Eastern techniques, facilitates deep muscular release that also rebalances you on a deeper physical and emotional level. It may include heat packs for injuries and muscular/joint problems. Within the massage, issues relating to problem areas in your life may also come up and advice is given. This helps you to understand where the deep set problem may lie – thus removing the cause whilst also treating the problem, leading  to longer lasting effects and self healing. The level of stress released in a massage makes this a fantastic way to treat tension held in the body, and I provide a bespoke treatment bringing a deep sense of peace and balance.
Emotional insight maybe given within a treatment so the the the mind/body connection is fully addressed.
Time:  60 / 90 mins   (prices may vary slightly depending on location, please contact for details)
"Being a devotee of deep tissue massages, I was surprised how powerful these Ayurvedic techniques are. Loretta's magical hands eased the stress and aches from my muscles, untangled long-term knots in my neck and shoulders and loosened tight calf muscles. Afterwards I felt both utterly relaxed and invigorated, and my skin felt deeply nourished from the warm fragrant organic oils." 
Healing Facial De-Stress / Rejuvenation Treatment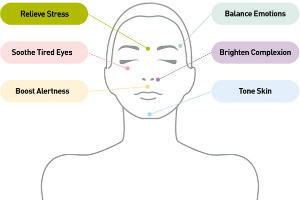 "Loretta's hands and deep conection through the skin could be felt as soon as she touched my face – sending me into a deep relaxation and state of bliss, more than just a facial, this is reki in motion, with the added bonus of beautiful products – this treatment left my skin soft, face glowing and mind refreshed."
A luxurious, deeply releasing and relaxing full upper body treatment. It is used to remove stress, calm the mind and lift the spirit. Work on marma points release tension in the whole upper body including the mind, head and facial muscles (which also helps with rejuvenating the skin), it has been described as a natural face lift. Massage of the face and head can be the fastest way to relax, de-stress and rebalance. It is the perfect treatment if you suffer from stress, work on a computer all day, or if you are experiencing a creative or emotional blockage. This treatment improves the circulation and aids detoxification of the facial skin. Releasing tension through accupressure to the marma points on the head and face allows you to deeply let go.
Time: 45 / 75 mins
"I can easily say Loretta's facials are the best I've ever had. My skin is glowing afterwards, I have very sensitive skin and it loved the simplicity of the products and the intensity of the massage. Loretta really makes the most of the 75 minute facial, when she's not pampering the face, she's massaging neck, shoulders, hands and feet!! I float out of there feeling super relaxed with skin that's plumped and glowing and a few years younger!"
Pranic Energy Healing Hands-On (similar to Reiki)
A powerful treatment, working through blockages and the subtle energies of the body to remove tension, bringing a shift in energy, internal balance and deep peace. The healing used is similar to reiki but is hands–on, either combined with massage and oils or used on its own through clothes. Marma points are worked on to release stress, bringing about a deep sense or relaxation and letting go .
A very subtle yet powerfull treatment
Time: 30 / 60 mins
Pinda Sweda: Heat & Herbal Bags
This specialised treatment involves deep tissue work on the whole body and the therapeutic application of heat with a warm muslin bag filled with Ayurvedic herbs. These bags are 'warm herbal hands' used with specific movements over the entire body or around particular joints, injuries or areas where pain, stiffness and immobility are held. The penetration of warmth into the body in winter is an excellent way to rejuvenate the muscles and aid physical health, deep relaxation and sleep. The herbs used and heat applied ease muscle and joint pain, address long-held tension, past injuries or trauma, reduce stiffness in the hamstrings, calf muscles and hips, loosen toxins, improve the circulation, release nerve pain and sciatica.
These bags can also be used during a deep tissue treatment and detox
Time: 45 / 75 mins
Pregnancy Massage
The nurturing touch of massage during pregnancy promotes relaxation and provides emotional support. Massage therapy has been found to reduce anxiety and depression. It is not recommended in the first trimester, or if any other health conditions are present throughout the pregnancy.
It is best to consult your doctor first if you have any concerns prior to booking.
Time: 60 mins
Home Visits
Home visits (when available) can be charged up to double the price or time and a half within the West11 and surrounding areas. Outside this domain, a travel time surcharge is added. If you do not have a massage bed at your home, the two-way cab fare is charged. The purchase of a massage bed is recommended to reduce your costs.